9 Box Toolkit: How to Create & Use the 9 Box in Succession Planning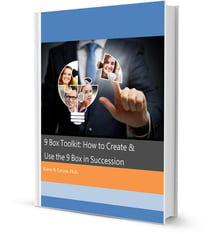 The 9 Box is a simple and helpful tool that can be used to support all aspects of the Succession Planning Process – from assessment and talent review through development and talent planning.
viaPeople's 9 Box Toolkit was designed to help you create a 9 Box chart that is tailored to meet the needs of your company in three steps. The toolkit:
Provides a sample set of behavioral definitions to help you define low, moderate and high performance.

Includes descriptions of leadership potential factors created by Industrial Organizational psychologists from which you can choose and customize.

Contains an easy to use template to create your 9 Box category definitions.

Offers tips and suggestions for using the 9 box in all four phases of Succession Planning: Talent Assessment, Talent Review, Talent Planning and Talent Development.
Transform Succession Planning Your Way!