Identify Causes, Target Solutions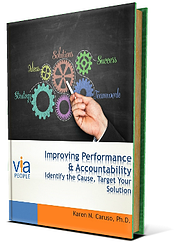 One of the greatest challenges managers face on a regular basis is to improve the performance of an employee who is not performing up to standards or expectations. Improving Performance and Accountability is a guide to identifying the cause of employee performance problems and offers tangible steps to improving their performance. This practical eBook:
Describes five common causes of employee performance problems,

Offers tools to help you diagnose the root cause of performance issues,

Presents tips for giving feedback and addressing poor performance, and

Outlines recommended solutions aimed at resolving performance issues.
Create your action plan and start improving the performance of your team today. Enjoy!